Heluna Health's Youth and Young Adult Development Services (YDS) program, in partnership with Los Angeles Mayor Eric Garcetti's Office of Gang Reduction and Youth Development (GRYD) initiative, welcomes everyone in the LA community to join us for free food, workshops, and fun activities during Fall Friday Nights. Choose the park or community center nearest you and come together with your community every Friday night from 5:00 to 9:00 PM through November 9th.  Check out the full schedule here >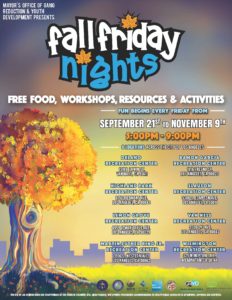 Listen to the KIIS FM Community Council radio interview about the YDS program>
Heluna Health's Youth and Young Adult Development Services program empowers communities to break the cycle of violence in communities in Los Angeles by promoting peace, self-sufficiency, and quality of life for youth and adults through gang intervention and violence prevention activities. We work in partnership with the Mayor's Office GRYD initiative, established in July of 2007, to address gang violence in a comprehensive way throughout LA. YDS was created as part of the GRYD initiative to assist the City of LA in interrupting the cycle of violence and provide gang involved youth & adults alternative pathways away from the gang lifestyle.
YDS supports the GRYD initiative with intervention support where we respond to gang-related incidents to help reduce the likelihood of retaliation and reduce tensions in affected GRYD areas. We engage in peacekeeping and mediation between gang members and rival gangs, and provide support to individuals and families affected by gang-related activity. YDS works directly with individuals and families to provide family case management, transitional support, academic guidance, job readiness tools, and personal development workshops to help our participants live healthy and productive lives. YDS also makes referrals to services like mentoring, counseling, and tattoo removal, and provides assistance and support for each of our clients. The program is designed to increase access to, and engagement in, positive activities and build connections to community networks.
You can help support the YDS program by donating to the program here. Your support will help us to ensure these resources continue to be available and help us build stronger and safer communities.
If you or someone you know is affected by gang-related activity, please connect with our YDS staff by visiting one of our offices in Hollywood or Rampart. You can also give us a call at 213-568-3469 to speak to someone in our Rampart office or 323-798-4772 in our Hollywood office.
Our Rampart office is located at:
2739 W. Temple Street, Los Angeles, CA
Our Hollywood office is located at: